Right guys, I have decided to reduce the price of my great condition MK1 GT which I have owned for the past 8 years. My 306 diesel has just blown its headgasket and I could really do with getting it fixed so I have decided to reduce the price of my beloved GT.
I am going to the Japshow on Sunday at Santa Pod and I am trying to get a stand pass for my last time there with TGGT. So if anybody wants to to see it in the flesh (Or even bring me some cash to collect it), you will be able to see it there.
I know I am biased but I do consider the MK1 to be by far the best looking GT due to the much more aggreesive bumper and the tailgate with the GT sign which lights up green. Also you have the knowledge that you own the rarest model with the MK1 and one of the best examples money can buy.
Price is reduced to £3750 and I have decided to include the Blitz wheels.
Also on a separate note, it has been in the garage since March but I have been forced to put it back on the road due to my 306 blowing up. I must say I wasn't suprised when it fired up first time after 3 months and I hadn't even disconnected the battery.
Here are the details in case you missed them the first time round:
Engine:
- Hybrid CT9 rebuilt approx 12,000 miles ago. Good for 1.2 bar but running 0.9 bar.
- Blitz Access ECU (Awesome rare ECU and the best aftermarket plug and play available)
- ARC top mount intercooler (Very rare and very expensive item)
- FSE adjustable fuel pressure regulator.
- Roadrunner mild steel manifold (The best manifold ever made and no longer available), used for approx 4000 miles.
- Roadrunner paddle clutch rated to 350 bhp (Bloody harsh clutch to be honest but handles the power well).
- HKS adjustable actuator
- Apexi air filter
- Custom mild steel downpipe
- Custom 2" stainless steel exhaust made by exhaustuk in Sheffield. (Needs a spot of welding but nothing too drastic)
- Forge piston dump valve
- HKS SSQV dump valve (You can have both)
- Magnecor 8mm HT leads
Suspension, brakes & Wheels
- Weitec shocks on front
- GAB adjustable shocks on rear.
- Weitec 40mm lowering springs all round
- Blitz type 01 racing wheels (VERY rare and VERY expensive items)
- Toyo T1R's on front (good tread)
- Toyo T1S's on rear (good tread)
- 3G 10 groove and dimpled discs on front
- EBC Greenstuff pads on front
- Braided brake lines all round
- Motul brake fluid (Better than dot 5.1)
- Cusco type os rear strut brace
Guages & interior etc:
- Greddy 52mm boost gauge (Doesn't light up but works a treat, and doesn't distract you at night)
- Greddy 52mm EGT gauge (This doesn't work but fills up the hole in the pillar pod)
- Autometer 52mm AFR gauge
- Nomad A-Pillar pod
- TOM's gearknob
- Panasonic head unit with 6 cd changer (something has happened to the wiring and it resets everytime the engine is turned off. It shouldn't be a big job to sort though)
- Parrot 3200 bluetooth fully in built carkit
- Starlet factory mats (Although they have seen better days.)
- Starlet factory boot liner
- Factory sunroof (Quite a rare option)
- Factory rear window shade.
- Climate control
- Personal 350mm steering wheel
The mileage is now 123000. It has been my daily driver since buying the car and still runs like a dream. I went away for a month in October and she fired first time when I got back. I have looked after the car like a baby since getting it and she is in great condition still. You may think that the mileage is high but the car has been looked after very well, she has only been run on Valvoline VR1 racing oil and Vpower ever since it came out (When it was Optimax) and on Super unleaded before that. When looked after Toyota engine are good for way over 200000 miles.
The car is a 1990 Mk1 and is still one of the finest examples I've ever seen. It does have the green GT badge which lights up in the centre of the tailgate and it actually works LOL!!!
The bodywork is in awesome condition still for it's age. Don't get me wrong there are marks but only a few and it is in better condition than pretty much any other GT's I've ever seen still.
Although I've not had it on the rollers I would estimate power at between 190 - 210 BHP. It's difficult to say but she is bloody quick.
Price

£3750 with the Blitz wheels and the winter wheels. The winter wheels are made by Intra and they are 14" and were made in West Germany (Old school LOL!!). They are exactly like Porsche 944 wheels though.

Pictures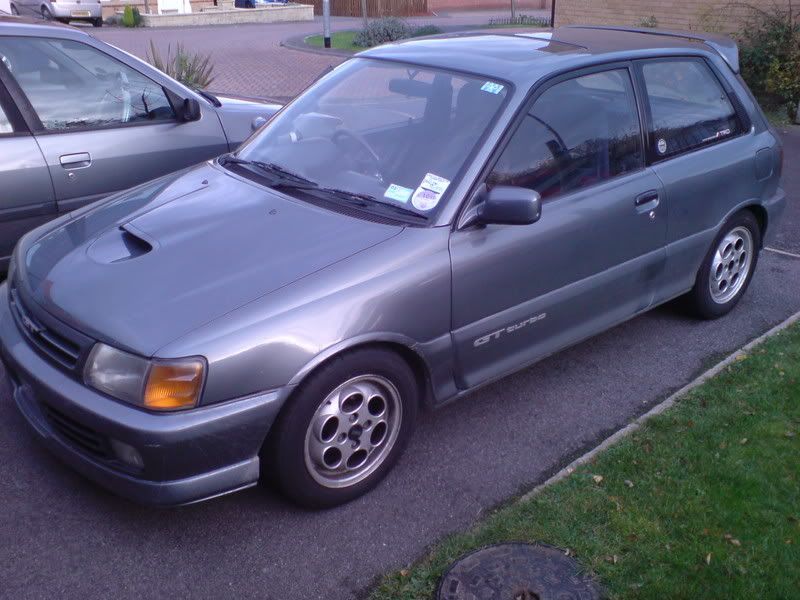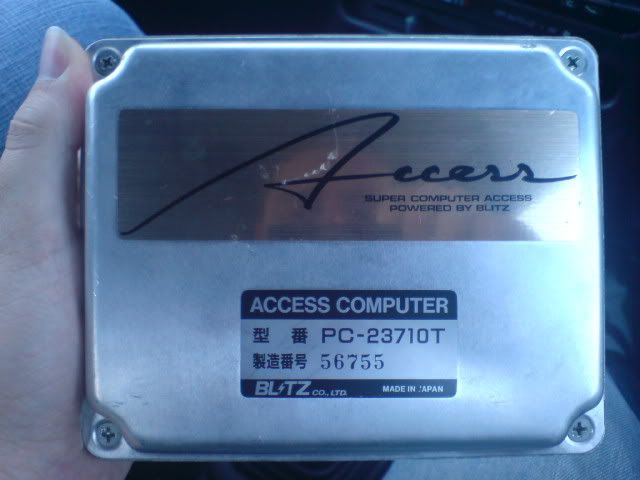 The car is taxed until the end of October and now has 12 months MOT as of today (20/06/08).

If you have any questions, please send me a U2U and I'll do my best to get back to you asap.

Cheers

Rick
Last edited: