I'm sure you've all heard the rhyme which includes the line,
"Wednesday's child is full of woe"
When Capitol Raceway closed about a month ago, I was full of
woe... after all, Capitol was my home track; it's where I found
my love of drag racing with
TERCEL4
and continued the love
affair with
TERCEL1
; it's the track where I made my very first
12 second pass!
A month or so ago, the track (now flying an
IHRA
banner)
reopened as 'The NEW Capitol Raceway' under new
management with promises of many ch-ch-ch-ch-ch-changes!
Well a
GREAT CHANGE
was announced during last week and it
made this camper very happy... The "change"....
Racing on
Wednesday nights
from 5-10pm!!!!
I'll tell you why this date is GREAT for me...
My 2 days off per week are Thursdays and Fridays so when I
get home from work on Wednesday, I can head on over to the
track and if (God forbid) something happens to the car, I'll
have 2 days in which to start lining up repairs...
I won't have to worry about a breakdown late Friday night
with the thought of having to go to work early Saturday
morning PLUS, until people hear about this new date for
racing, there will be very few participants in attendance AND
the ones that do come out to race will have to have
full exhaust systems
!
So with an eye to the sky (weather) I came home and
immediately hit the road for 'The NEW Capitol Raceway':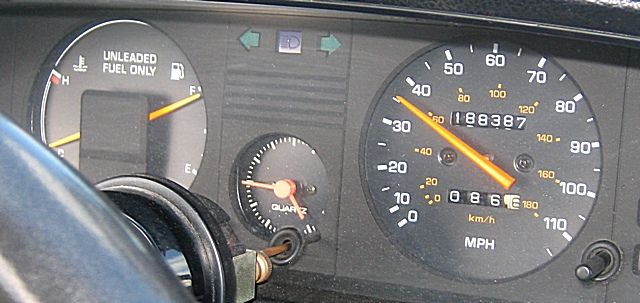 According to my
Weights'n'Measures
table, a full tank of gas
weighs about 77 lbs so, if I'd known I was going to attend this
inaugural Wednesday test'n'tune, I probably would NOT have
filled up my tank last Saturday but, that's all water (gas?)
under the bridge so, off I went...!

Well, it wasn't long after I'd arrived that I'd gotten teched in,
secured a place in the pits and found myself in the staging
lanes waiting for my first pass:
If you're wondering what that is on the hood of
TERCEL1
,
here's a closer look:
BACKSTORY:
A co-worker of mine, earlier this week was wearing a neat
t-shirt and when I asked where he got it, he told me that a new
micro brewery (
Adroit Theory
) had opened up in Northern
Virginia and they were having a contest and giving away
decals and
FREE
t-shirts to get the word out about their brew
so I dropped them a line, telling them I'd put a sticker on my
car and wear their shirt... and being a man of my word: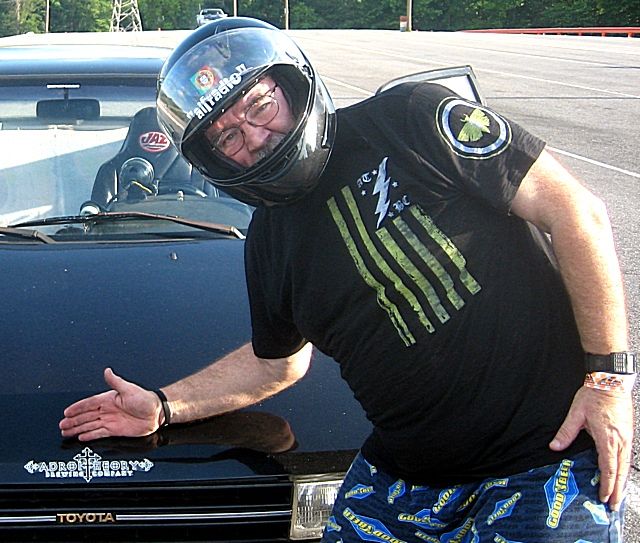 As mentioned earlier on in this post, "
...until people hear about
this new date for racing, there will be very few participants in
attendance.
" An understatement to be sure...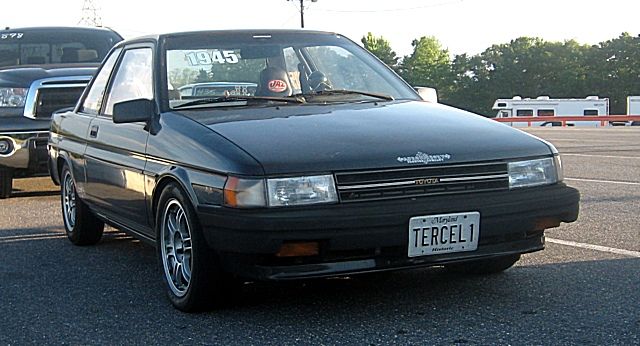 ...and because all cars racing were required to have full
exhaust systems, the test'n'tune included mostly street driven
cars which made for some pretty competitive pairings including
a BMW which was running very consistent 12 sec passes: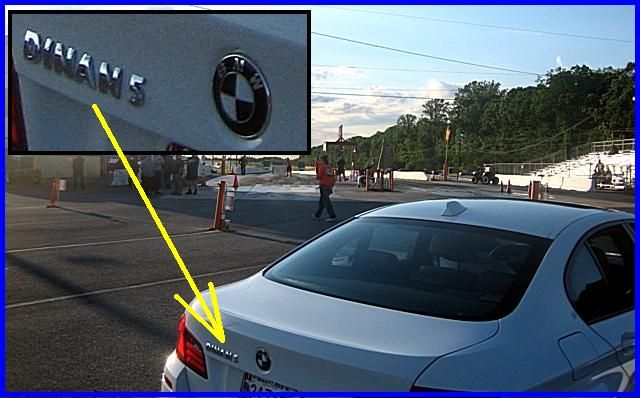 I first noticed the car making a pass while I was coming down
the return road. "A very quick luxury car", I thought and so I
set out to get a pairing with him which I eventually did, at
around 8:31 PM with less than stellar results from yours truly: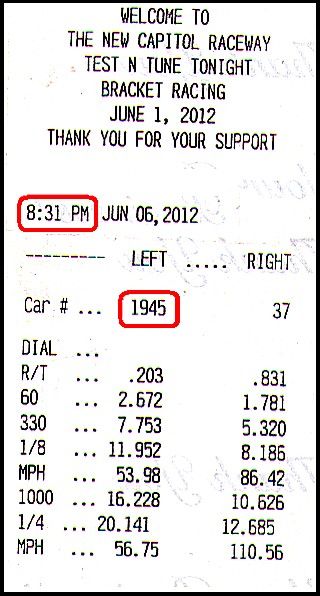 At the hit of the clutch,
TERCEL1
lost all power and began to
sputter and the race was over!
I limped back to the pits, popped the hood and was looking
around to probably discover a blown turbo coupling but they
all seemed intact when I noticed an electrical arc in the vicinity
of the distributor/coil... It appeared that one of the coil plug
wires had loosened enough to not be making full contact and
so basically
TERCEL1
was running on 3 cylinders!
After getting everything buttoned up and checked out, I closed
the hood, returned to the lanes where I found the 12 second
BMW waiting for me.
ROUND TWO: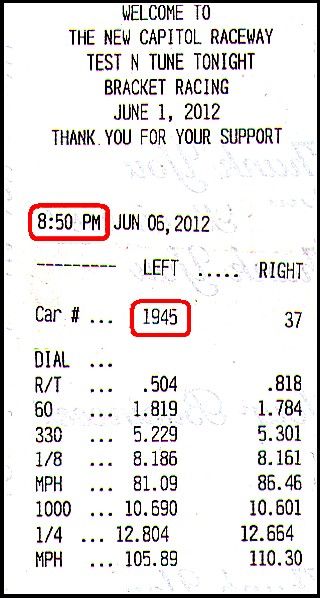 Even though
TERCEL1
(slight mis-shift) had a slower ET,
the fact that my reaction time was a bit quicker, let to a win by
.174 seconds.
We both returned to the pits and introduced ourselves and it
was then that I learned that he had like, a 500HP V8 engine
with twin turbos and a 6 speed automatic trans? I was very
impressed! We were both ready to leave for the night but
agreed on one more GO! So at 9:08 PM, about 20 minutes
before the staging lanes were closed for this first Wednesday
test'n'tune, we lined up for our final race of the night:
ROUND THREE: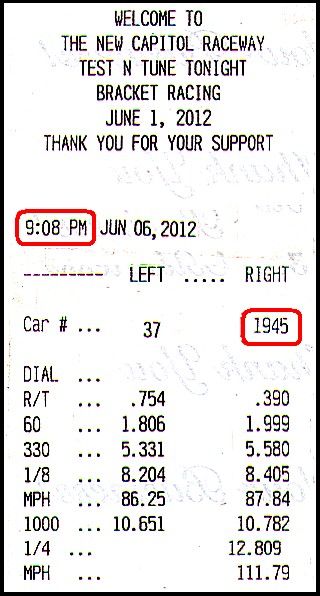 The timing system in his lane appeared to fail but,
TERCEL1
did
go through the traps first and another night at the track came
to an end.
Before Dave (the BMW owner) and went our separate ways,
we spoke in the pits agreeing to return on some other
Wednesday night in the future to the NEW Capitol Raceway
Here's
TERCEL1
's report card for the Wednesday evening's 14 passes: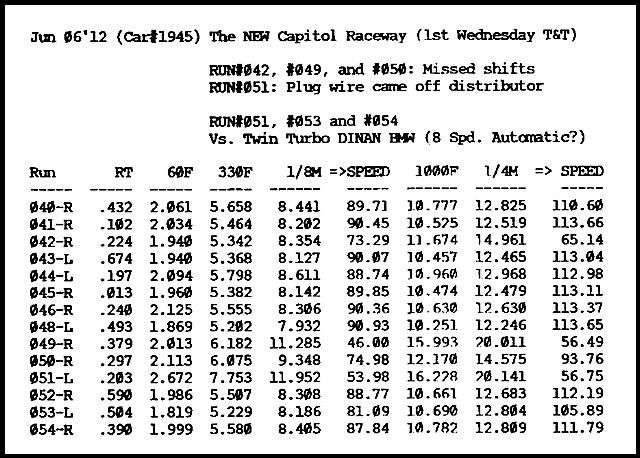 alf :homer: