EP82 Starlet Mk1 (1989-1991)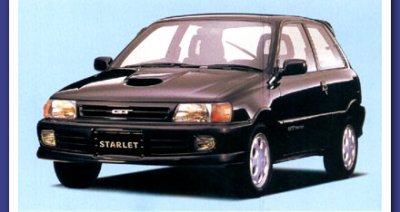 ​
Carrying on in the tradition of the EP71 Turbo S, the EP82 GT was placed at the topend of the Starlet range.
Production started in December 1989 with the initial version (commonly referred to as the Mark 1).
All models were powered by the 4EFTE, a turbocharged 1331cc 16v engine and this produced a maximum of 135ps @ 6,400rpm. The published 0-60 time is stated as 8.2 secs in the original sales brochure and this was enough to impress the Japanese public.
The standard equipment offered was as follows:
Power assisted steering
Adjustable steering wheel
Electric door mirrors
Heated rear window
Airconditioning
Split rear folding seats
Intermittent wash/wipe
There was also a higher specification that added central locking and electric windows into the spec sheet.
A great number of optional features were available, many of which are greatly sought after nowadays. It's difficult to give the full list but here goes nothing:
Electric Sunroof
Limited Slip Diff equipped gearbox
Climatronic Airconditioning
Recaro sports interior
Rear 3-point strutbrace
Wind deflectors for front windows
Wind deflector for sunroof
Dash mounted accessory tray
Parking guidance light
TEMS Suspension
'CleanAce' Roofmounted dehumidifier
Remote central locking
CD player
Bootliner
Armrest
Stereo Amplifier
Upgraded speaker options
Door mounted speakers
Full carpet mat set
Plastic rear window cover
Momo sports steering wheel
Alloy wheels
Antilock braking system
Cubby box in passenger side footwell
Naviboy electronic compass
Cupholder/notepad holder
First Aid kit
Child seat
Booster seat
Storage bag for rear of front seat
'Airfantasy' fragrance control system
Torch and holder
(Please forward any additional info to myself for this list)
There was also the option of changing the five speed manual gearbox for a four speed automatic gearbox if required.
A special edition was available : the 'Snow Version' which was designed for colder regions. These featured snow tyres, yellow headlamps, different alternators and a stronger starting system.
It's time I stated for the record that the 'Light-weight' edition is a myth. These are simply the basic entry-level model which due to it's lack of electrics was a little lighter than it's more highly equipped counterparts.
These are taken from
www.cars-directory.net
and show the dealer retail price across the range in December 1989 just as the EP82 was launched:
# Modification Body type Drive Trans Fuel Displacement, cc Engine model Frame Price
1. GT Hatch FF AT Gasoline 1331 4E-FTE E-EP82-AGPQY $10900
2. Canvas top Si Hatch FF AT Gasoline 1331 4E-FE E-EP82-AGPXK $10400
3. Gi Hatch FF AT Gasoline 1331 4E-FE E-EP82-AGPVK $10300
4. GT Hatch FF MT Gasoline 1331 4E-FTE E-EP82-AGMQY $10300
5. Canvas top Si Hatch FF MT Gasoline 1331 4E-FE E-EP82-AGMXK $9800
6. Gi Hatch FF MT Gasoline 1331 4E-FE E-EP82-AGMVK $9700
7. Si Hatch FF AT Gasoline 1331 4E-FE E-EP82-AHPSK $9300
8. Si Hatch FF AT Gasoline 1331 4E-FE E-EP82-AGPSK $9100
9. Si Hatch FF MT Gasoline 1331 4E-FE E-EP82-AHMSK $8700
10. X Hatch FF AT Diesel 1453 1N Q-NP80-AHPGS $8600
11. Si Hatch FF MT Gasoline 1331 4E-FE E-EP82-AGMSK $8500
12. X limited Hatch FF AT Gasoline 1331 4E-F E-EP82-AHHGU(L) $8100
13. X Hatch FF MT Diesel 1453 1N Q-NP80-AHMGS $8000
14. Canvas top Hatch FF AT Gasoline 1331 4E-F E-EP82-AGHEU $7800
15. X limited Hatch FF MT Gasoline 1331 4E-F E-EP82-AHMGU(L) $7800
16. S Hatch FF AT Gasoline 1331 4E-F E-EP82-AGHSU $7700
17. X Hatch FF AT Gasoline 1331 4E-F E-EP82-AHHGU $7500
18. S Hatch FF MT Gasoline 1331 4E-F E-EP82-AGMSU $7400
19. Canvas top Hatch FF MT Gasoline 1331 4E-F E-EP82-AGKEU $7300
20. X Hatch FF MT Gasoline 1331 4E-F E-EP82-AHMGU $7200
21. Soleil Hatch FF AT Diesel 1453 1N Q-NP80-AHPDS $6900
22. Soleil Hatch FF AT Diesel 1453 1N Q-NP80-AGPDS $6700
23. Soleil Hatch FF MT Diesel 1453 1N Q-NP80-AHMDS $6300
24. Soleil L Hatch FF AT Gasoline 1331 4E-F E-EP82-AHHNU $6100
25. Soleil Hatch FF MT Diesel 1453 1N Q-NP80-AGMDS $6100
26. Soleil L Hatch FF AT Gasoline 1331 4E-F E-EP82-AGHNU $6000
27. Soleil Hatch FF AT Gasoline 1331 4E-F E-EP82-AHHDU $5700
28. Soleil L Hatch FF MT Gasoline 1331 4E-F E-EP82-AHKNU $5600
29. Soleil Hatch FF AT Gasoline 1331 4E-F E-EP82-AGHDU $5500
30. Soleil L Hatch FF MT Gasoline 1331 4E-F E-EP82-AGKNU $5500
31. Soleil Hatch FF MT Gasoline 1331 4E-F E-EP82-AHKDU $5200
32. Soleil Hatch FF MT Gasoline 1331 4E-F E-EP82-AGKDU $5000
*Picture courtesy of Toyota
Last edited: